This article is the next in the employee spotlight blog series. We're shining the light on the talented team at Decision Focus. Read this article to learn about implementations with the industry-leading GRC software platform. You can read the first interview here.
Do you want to create the best GRC compliance software with an award-winning innovative team? Get in touch, and we'll show you how easy it is to set up. Start meeting your compliance obligations and join other happy clients who use the Decision Focus GRC platform.
Introducing:
Fergus Norrie - Implementation Consultant
#MeetOurTeam
info@decisionfocus.com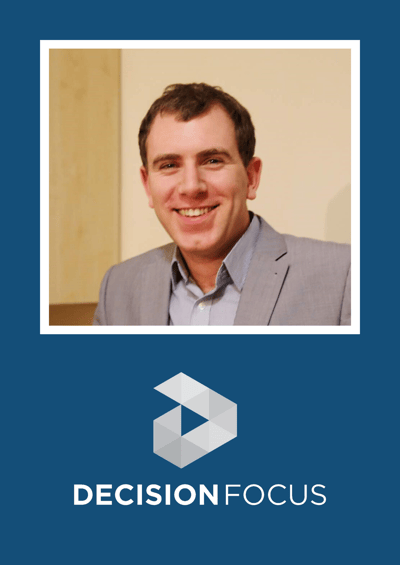 Could you describe your role at Decision Focus?
I work as an Implementation Consultant and have been at Decision Focus for two years. As part of my role, I work closely with the client to implement the Decision Focus software. For many of our clients, we do bespoke implementations, which means there is more focus on the client's pain points. We also do module implementations, which are much more "out of the box" and are faster to deliver.
Another part of my role is supporting clients in an Account Management capacity. I work with clients to see where they want to go with Decision Focus, the next phase, or different areas they want to expand into in the GRC world. I help clients shape these projects going forward and support each client throughout the whole lifecycle.
What do you enjoy the most about working at Decision Focus?
I enjoy the drive that the company has as we continue to grow. It is one of our main aims this year to keep this going. We want to push it as far as possible. We have a saying in the company, "how would this work if we were doing ten times as much?" which shows our ambition.
It is being part of this scaling up but also making sure that we keep that special personal touch that Decision Focus has with its clients makes the job so enjoyable. I think this is really exciting.
How does Decision Focus focus on customer satisfaction compared to other GRC software platform companies?
Decision Focus always has its focus on the client. There is no handing-off between different teams. The clients have that consistency of one point of contact. Clients can reach out and get a response immediately. It is far better than using a ticketing system and being sent here, there, and everywhere, to resolve their issues. This also gives us better insight to how else we can support the client, and help guide future implementation projects.
When we start a new project, we set expectations for ourselves and our clients. It's not a one-way relationship when you work with Decision Focus; it's very much a team game. We say it is "one team that is delivering this project" rather than us doing what the clients instruct us to do. It is about maintaining a team effort with everybody involved in the project.
Finally, what sets us apart is our value of starting simple. We know from experience that trying to solve all the problems at once can end in poor adoption or overly complicated solutions. Starting simple and delivering quickly gives benefits back to the client and allows them to have greater backing for further work.
This also allows a focus to ensure all pain points are solved through each release rather than a big bang implementation which misses the key reasons for the software in the first place. The benefits from solving things quickly means the clients can see the satisfaction early on and want to do more projects with us.
What personal achievements have you had since working with Decision Focus?
One of the great things I've achieved is working with autonomy. My responsibility is to drive implementations forward, deliver them and ensure the customer is happy. The company's flat structure gives you these responsibilities to make it work and succeed. It is something that happened quite early on in my career at Decision Focus and doesn't happen in other companies.
How does Decision Focus recognise and share achievements?
When somebody at Decision Focus has achieved something, the organisation recognises it. Internal communications contain constant messages to keep everybody in the team up-to-date. The news could be about the successful delivery of a project, new clients, a new project starting, a new feature to one of the company's modules, and so on.
It is a constant reminder and recognition of things the company is doing, being mentioned and shared with the whole company. It allows people to "Like" and select other positive reactions to these posts. You can see that everybody in the company is interested and excited about the new wins, projects and well-delivered projects. When you can see the recognition from your team members, it is very inspiring.
What are the unique aspects of Decision Focus setting it apart from other GRC software companies?
What makes Decision Focus unique for me is the speed the company can deliver implementations. We can provide a project in a significantly shorter amount of time than it takes a client to sign the contract in the first place. We can have a fully-functioning Risk and Control self-assessment system set up and ready to use within a week. The implementation is quick for the client, who sees the benefits immediately.
Also, the company is getting recognition in the insurance industry. Last year, it received its first InsuranceERM award for ERM end-to-end Solution of the Year. Now Decision Focus has received, only in the last few days, another InsuranceERM award. This year the award is for Operational Risk Solution of the Year. It's great to see the company getting noticed for its different solutions.
As mentioned earlier, another exciting area to follow is the ambition of Decision Focus to see how far the company can go. The aspiration is to grow ten times in size, significantly increasing what we have achieved in the last few years. Everybody in the company is up for this challenge and wants to put in the time and effort into this to make it work. It is something extraordinary to be a part of right now.