We're proud of our talented team at Decision Focus and want to share their positive enthusiasm with you. Read the latest article to discover more about the industry-leading GRC software platform. You can read other interviews in the series here and here.
Ready to move from your old legacy system and embrace modern GRC compliance software? Contact our award-winning team here. Take the opportunity to boost your compliance because your company deserves the best.
Introducing:
Jennifer England - Implementation Consultant
#MeetOurTeam
info@decisionfocus.com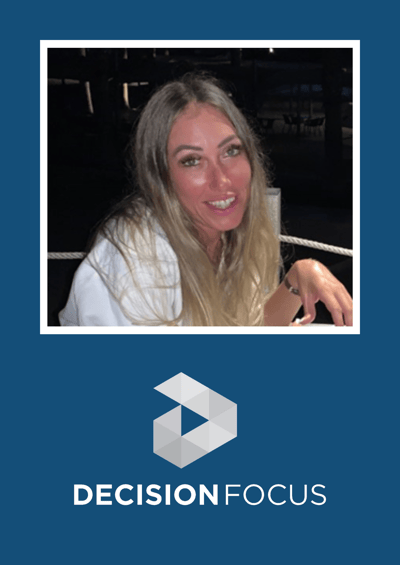 Why did you want to work at Decision Focus?
I admired the Decision Focus platform for a while and was also looking at the changes in the industry. Decision Focus always seemed to be ahead of the curve. They are also a frontrunner in developing GRC solutions, solidified when they recently won their second InsuranceERM Solution award. Due to their success, they have also received funding to help their growth in the next several years.
On a personal level, I wanted to work for an innovative company with a growth mindset. The philosophy of work at Decision Focus is inspiring, fun, rewarding, challenging, and enjoyable. This philosophy really resonated with me. I've discovered that the company has these things and much more.
The company mentioned on the website that it is evolving and improving its values. The statement on values was an important factor for me to apply to work at Decision Focus. These values align with my viewpoint on evolving and improving as people, not measured by long nights and titles but by success.
Before applying for the position, I also read the Corporate Cog to Team Player blog post. It made the company feel very inviting. Fergus talked about how "Everything felt rigid in the company, and at times boring" in his previous employment. Also, as a wise person once said, variety is the spice of life. I was very interested in working at Decision Focus to experience the exciting and varied client-facing roles.
What do you like the most about working at Decision Focus?
I refer to it as the four Ps - Product, Platform, People, and Progressive. At Decision Focus, you can have close relationships with clients, which I thoroughly enjoy. The relationships with clients are strong, develop very fast, and benefit the project. It's also very convenient for when any problems arise.
GRC is notorious for being heavily regulated and can impact clients' day-to-day lives. With a current customer, you can see how their life is better using the Decision Focus platform. It is really nice to see this happening and the platform's positive effect on our clients.
I also like the people at Decision Focus. The company has a very nurturing environment. The website says the company will challenge you intellectually. Not only that, but you also have ownership and autonomy in your role. You can still work closely with colleagues, collaborating in different areas, but work off your ideas and run with them. This way of working makes a difference to clients and the team.
Decision Focus is very progressive. We have a culture that is forward-thinking but always simple. A video from our CEO Jon highlights that we keep things simple and don't overcomplicate things. Our progressive approach has allowed us to make a real difference in our company. Having autonomy enables me to give 100% focus. It makes a more efficient working environment for the client and the team.
How do you ensure a smooth transition for clients during implementations?
As an implementation consultant, the role is customer-facing, which makes a huge difference. The initial phase is to create a plan outlining the steps to implement their GRC solutions. You listen to the client's current pain points and come up with a solution surrounding that. There are regular touchpoints and an agile approach to finding a solution for the client.
It's a priority to ensure the client is happy and likes the product. We go at the pace of the customer and look to fit our solution to the client's specific needs. I look to understand what the clients want and then tailor solutions. As the primary point of contact, I can help them with training or support. We also have regular or ad hoc meetings with clients, whatever works best for them.
During the implementation, we look at areas for expansion to help our clients. When working with a client, it's essential to consider how it would work if they want to expand. A future solution must still be manageable for the client. Therefore, you must consider the bigger picture when implementing. This process helps with a smooth transition during the process and for future work.
Why do you think Decision Focus is so successful in the GRC space?
There is usually a "one size fits all" system for GRC solutions in software companies. You would have an audit module, document module, and so on, but you can't cutomise them. The big draw for Decision Focus is the product and the platform. You can pretty much do anything with it. In the past, I would have to say, "No, the system can't do that." Now, the world is your oyster with the Decision Focus platform.
At Decision Focus, we do bespoke implementations and "out-of-the-box" modules. Also, the speed at which we do things is incredible. In previous companies, you might have to wait twelve weeks to speak to a consultant. Also, another six weeks before the project started. The speed here is so fast, and we always keep the end user in mind.
The platform is easy-to-use, with no code, making it very flexible. At Decision Focus, we are consistent and offer the same data. It gives companies a single source of truth. In other companies, the data can look askew from different views. It's also the company as a whole, as we can give a personal touch. We create close relationships with virtual face-to-face meetings, unlike other companies.
Everyone has a voice in the company, which is very unusual. You might have an idea from personal experience, and your ideas are always heard and acted upon. The company growth has been significant, even during my short time here in the last few months. It is down to the collaborative and diverse nature of the company that has made this happen quickly.
What does the future of Decision Focus mean for new implementations?
The company has just won the second consecutive InsuranceERM award for Operational Risk Solution of the Year. It demonstrates that our solutions match what clients need right now. Because we have customisable and module options, clients can pick what will work best for them. We already use AI in the Decision Focus platform to help with risk, but we intend to ramp this up even further. The AI approach will be even more beneficial for our clients.
We also excel in risk solutions by using integrated assurances and evidence-based assessments. We can integrate with many operational and third-party risk management areas. With the extra influence of AI, we can give more value to our clients by helping them with risk identification. The future looks bright, with more innovation and options available for our clients.