Welcome to our new employee spotlight blog series, where you can meet the talented team at Decision Focus. Each interview will provide a unique perspective and offer insight into the industry-leading GRC software platform.
Whether you are already familiar with GRC software or looking to learn more, this interview series will be informative. Let's meet the people behind the award-winning innovative team at Decision Focus!
Introducing:
Devante Bell - Implementation Consultant
#MeetOurTeam
info@decisionfocus.com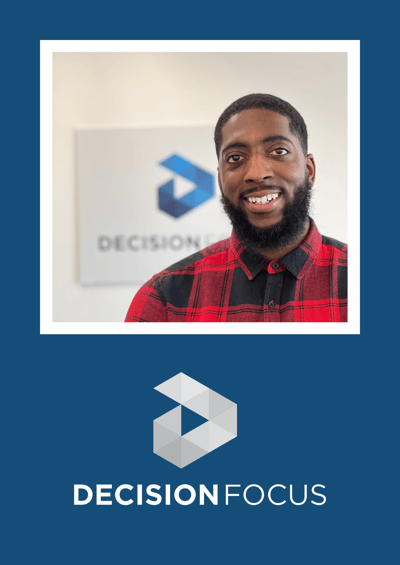 What does your role involve at Decision Focus?
My name is Devante Bell, and I am an implementation consultant here at Decision Focus. My work is very client-facing and involves developing a plan and outlining the steps to implement their GRC system.
I help to customise the solution to fit a client's specific needs. During the implementation phase, I listen closely to understand the client's needs. I then tailor the solution to match the requirements. From the initial signing of the contract, my job is to manage the project to completion.
As the client's primary point of contact, I must provide training and support. Another essential part of my role is ensuring the client is happy. I do this by monitoring and evaluating the success of the implementation. I can then make any adjustments to ensure the system matches the client's needs.
What is the best thing about working at Decision Focus?
I've been working at Decision for about eight months now. Although I am quite new, I have joined at an exciting time as the company continues to grow. One of the best things I see at Decision Focus is the real difference you make to your clients. Many clients come from legacy systems or old ways of working. We are introducing them to a new and more agile way of working. You can see that Decision Focus is like a breath of fresh air for them.
You also see the impact in other ways, especially as governance, risk, and compliance are heavily regulated. These regulations have taken a toll on people's lives and their jobs. Once we revolutionise it with our software, you can see that it is making their jobs much easier for them.
Also, the teams work more smoothly, and the organisation performs better. It can translate into their personal lives if people are unhappy at work. It's great to see that they feel better, personally and professionally, when things get easier at work.
GRC is a complex and constantly evolving field, making the work quite challenging. But it also feels rewarding when you successfully implement a project or find a problem for a solution. I like working at Decision Focus for the company's innovative technology. The company uses tools such as AI and machine learning to provide better solutions for clients. It is continually evolving.
I also like the culture in general and the collaborative approach in Decision Focus. There are a lot of consultants that have experience from different areas of life. You always feel like you are working with a collaborative and diverse group of people. All team members work together to create the best thing possible for the client.
How does Decision Focus prioritise and approach customer satisfaction compared to other GRC software companies?
I've worked for other GRC companies in the past. Decision Focus does things differently by having the end user in mind during the design process. This system ensures successful implementations with a friendly end-user experience for clients. Because Decision Focus has the end user in mind, it has made the user experience different from other companies.
You don't need to learn how to use apps like Facebook, WhatsApp or Instagram. You learned to use them by yourself. Because these apps are straightforward to pick up, that is something similar that Decision Focus has adopted into their solution. For the end user, the process should be simple and easy to navigate.
Decision Focus encourages the best customer relationships we have as consultants with our clients. The company makes every effort to create the best environment for every implementation. It's important that you do not segregate yourself away from your client. We are all one team, implementing one solution for that client.
It's also encouraging to see how Decision Focus creates the best customer relationships. We have lots of virtual meetings as well as in-person days with our clients. It helps in the following:
Getting to know the clients on a personal level
Making the clients feel more involved in the project
Contributing to harmony and increased productivity
Decision Focus makes a point of tailoring implementations to clients' specific needs. Organisations we work with, especially in insurance, traditionally have their way of doing things. It's all about customising and tailoring our solution to their specific needs. You must work through the client's processes and make the necessary recommendations.
Continuous customer support is also another feature of Decision Focus. The company likes to improve customer relationships so that the client feels supported continuously. It helps the client to understand you and learn how to work together. This support might start small to show the client the value. Over time it continues to grow and helps improve the customer relationship later down the line.
What notable achievements or recognitions has Decision Focus received while you have been working for them?
The company has won ERM (Enterprise Risk Management) End-To-End Solution of the Year at the Insurance ERM Awards for 2022.
Also, the business received private equity funding to help expand its growth and organisation. Decision Focus was a small to medium-sized business and is now quickly growing to become an even larger company.
What is the thing that makes Decision Focus special in your eyes?
Three things make Decision Focus special: the culture, the product, and the people. As mentioned before, I have worked for other GRC companies previously, but the culture at Decision Focus is the most enjoyable. You get a work-life balance and great projects to implement. The people you work with also help to enhance the culture.
The company has a collaborative team that is based worldwide. Different team members' locations help bring other aspects of life and culture to the company. These factors positively contribute to fresh thinking and approaches to individual projects. The product itself is innovative, new, and slick.