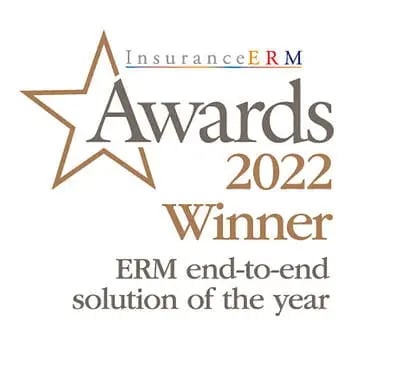 Decision Focus has won the Insurance ERM Award 2022 for the ERM End-To-End Solution of the Year. This award follows another year of high growth for Decision Focus. As a modern GRC SaaS solution in the market, it is a significant testament to the disruption of the software market in the domain. The platform delivers truly embedded GRC for enterprise, through unrivalled delivery of integrated assurance - and an obsessive user-centric approach.
At Decision Focus, clients enjoy working with professionals who understand their pain points. Jeff Robinson, Head of Risk and Compliance Solutions, said, "We are over the moon to have received this award. It is a great acknowledgement of the fantastic team at Decision Focus. All our people have similar DNA - everybody is incredibly fast, diligent, and always works with security at the forefront".
A Passionate Team Working In A No-Blame Culture
This new award highlights the whole team's hard work in the past year, regardless of where they work in the company. It doesn't matter if the team member worked specifically on the implementation. Or if it was an engineer from the development team. Like Henry Ford said, "If everyone is moving forward together, then success takes care of itself."
They use their fun natured perspective to get the job done with enthusiasm and passion. There is a pure collaborative team approach at Decision Focus. One which promotes a no-blame, no-politics culture. Every team member does the right thing because it is the right thing to do. Not because "they are told to do it" or act in a certain way. This feeling of freedom for team members is an integral part of their business.
Matching The Technology With The Organisation
The company wants clients' to experience a rich, enjoyable and successful process. The whole team goes above and beyond to look for the optimal outcome for the clients and the company. There is a recognition that all the relationships with clients will be long-term. This commitment helps their clients achieve internal benefits and alleviate their regulatory pressures.
Decision Focus ensures that the technology fits the framework of the organisations. Nicole Dance, Group Risk Director for the BMS Group, said, "Decision Focus provides a single repository for monitoring and oversight of the risk profile of the group. For us, the most important factor is the flexibility of the Decision Focus platform.
"This has enabled us to enhance our framework as our needs evolve, without worrying about the ability of the system to support these enhancements. We have already found additional uses for Decision Focus in the group, such as supplier management and IT security. Decision Focus has significantly enhanced our risk culture."
Eugene Owusu - Head of Risk and Compliance Transformation and Chief Product Owner of Liberty Specialty Markets says: "Rapid, high quality delivery when on a short timeframe with multiple stakeholders. Full roll out within one quarter for all areas of our business. The Decision Focus is revolutionising how we go about Risk Management linking risks, controls and incidents in a way that is simple to navigate, visualize analyse and report."
The focus on matching the technology with the framework is clear to see. All the clients that work with Decision Focus have used more than one solution. The technology created has prompted some great comments from clients. Such as, "this is a system built by people who have been in our shoes" and "it was specifically built for risk and compliance and audit professionals".
GRC And Tech Can Be Fun
Decision Focus shows clients that it is possible to mix GRC and tech in an enjoyable process. The company goes out of its way to make implementations fun. Also, they are not afraid of having "brave conversations" with clients. If a client is heading in the wrong direction, they can easily broach the subject and point this out to the client. This direct but friendly approach helps to build effective long-term relationships.
Decision Focus clients can also benefit from their deep domain knowledge, employing risk, compliance and audit professionals. Consequently, the team has a real sense of what's required as they understand the clients' pain points. This experience ensures that the technology clients receive matches the framework.
Clients in effect have access to a GRC data lake or data warehouse. Everything is in one place, which gives easy access to compliance teams or regulators. Additionally, it's not only a UK solution that is on offer. The company is all too familiar with working with global clients. This offering means enterprises can ensure they are compliant wherever they operate globally.
Decision Focus Continues To Grow In The GRC Domain
As Decision Focus continues to grow, the company appreciates the award for recognising its success in the insurance space. Sector agnostic, the company also helps many clients outside of financial services. This experience, both within and outside the financial sector, paves the way for the next phase of interest in the GRC domain, such as broad topics such as UK SOX as sector specific such as Lloyd's principles assessments. Decision Focus is ready and excited to support its existing and new clients in this area.
If you would like to grow with Decision Focus - as client, or as a new team member, reach out to us directly, and we'll be happy to have a chat with you!