Beer is a dangerous business.
In fact, it can be a disastrous affair.
No, I am not thinking of the slightly impaired judgment caused by excessive imbibement of beer leading to ill-considered actions generating various beer-induced mistakes, mishaps and misfortunes.
The Great London Beer Flood
I am thinking of disasters like The Great London Beer Flood back in 1814 where faulty brewery equipment caused the death of at least eight Londoners.
An iron hoop holding together a seven-metre-tall vat of beer gave way resulting in other beer barrels to be knocked over and releasing a tsunami of beer flooding the area surrounding what is now the Dominion Theatre at the crossroads of Tottenham Court Road and Oxford Street. More than 2.5 million pints of primarily London Porter smashed through one of the brewery walls and killed a servant in the adjoining Tavistock Arms pub. In New Street, a small but densely packed alley at the back of the brewery, a minimum of 7 people was killed by the debris and the wave of Porter gushing out of the brewery.
If only the brewery had tried to control the inherent risk of having a 2.5 million pints vat of beer in a crowded area of London, then this disaster would most likely never have happened.
The faulty brewery equipment had in fact been identified, but no appropriate action had been taken so the worn-down iron hoop was not replaced in time.
Off-piste skiing, rocket building and risk appetite
I joined Decision Focus recently and to my pleasant surprise a lot of my fellow colleagues like a good pint of beer. They do not, however, like disasters. They are working together with some of the biggest companies in the world such as Novo Nordisk and IBM, building systems to avoid disasters by acknowledging inherent risks, establish risk controls and make sure the residual risks are as low as possible (For a more in-depth description of Risk Management, please read my colleague Brian Hardwick's excellent description of How to Sharpen your Risk Assessment Tools and Improve Your Risk Thinking).
This doesn't mean my colleagues are risk averse. As off-piste skiers, snowboarders and former rocket builders (coming back to that one in a moment) they know there is a risk with their hobby of choice, but they have acknowledged this risk and decided to go ahead and enjoy themselves (Still not sure how much Jon, founder of Decision Focus, enjoyed his encounter with a mountain while mountain-biking in France, but it surely gave some alternative holiday pictures):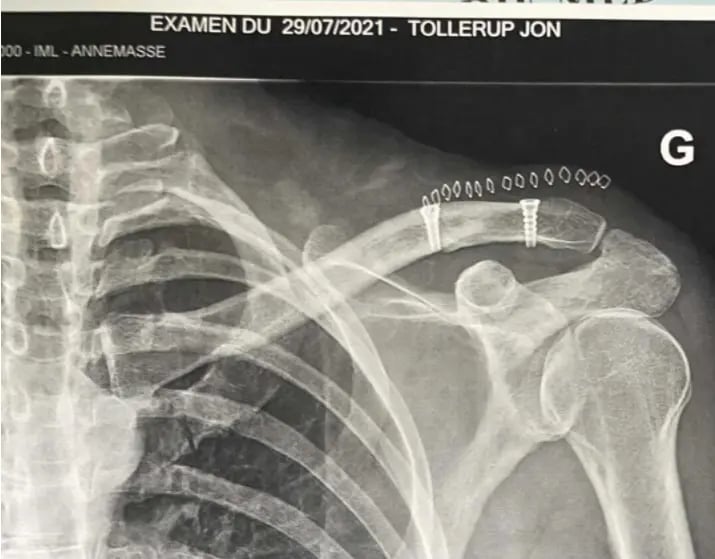 Everyone's risk appetite differs.
Just like companies.
Capsules Tailored for Your Business
This is where the Decision Focus platform comes into the picture.
The Decision Focus platform is a low-code platform1 so it is very quick to configure a robust and scalable system.
My colleagues and I engage with clients in an agile process and can help them quickly build a Risk Management-system that is tailored to the client's business and risk appetite.
It can be based on a capsule where best-practices and my colleagues' many years' experience from the Governance, Risk Management and Compliance (GRC)-space are crystallized into a system, which can be modified to each client's individual requirements. This can be done during Team-meetings with clients where we are discussing the clients' business processes and requirements while simultaneously adjusting the capsule. Starting with a capsule or from scratch, it is a quick process to configure a Risk Management system, or another system in the GRC-space, to a fully scalable production system.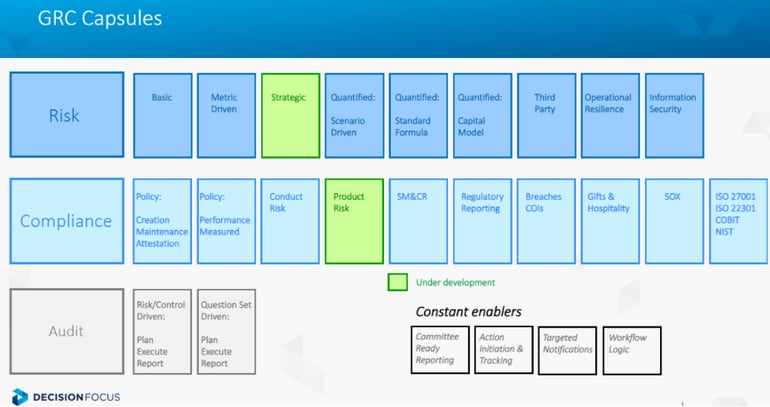 1 Some call it a no code-platform, but my many years' experience in IT tells me that this is a misnomer.
A Pragmatic Approach to AI
The chief architect for the Decision Focus platform is Magnus Höglund and besides dreaming in codes, he loves beer – and rockets. (Yes, beer and rockets sound like a dangerous combination and he put the rockets on the back burner (not literally!), which I find quite reassuring ...)
He is also involved in bringing AI to the Decision Focus platform and at the moment we are using Google's TensorFlow and IBM's Watson.
We are not using AI just for the sake of it, we are only using AI if it can help us and our clients.
For instance, we are looking into whether TensorFlow can help us in answering various Request for Proposals and Request for Information. We are also looking into how we can use IBM's Watson translation capabilities for some of our global clients.
Speaking of global; as part of my onboarding process, I was tasked to build a system to catalogue craft beer from all over the world (Cheers, Simon, I enjoyed that task!)
Initially, we thought about using AI to recommend beer based on a beer-aficionado's favourite beer, but a simpler approach was deemed just as good.

If you want to be inspired to find similar beers to the ones you like, please contact us for a demo (we can also give a demonstration of Risk Management systems and other systems in the GRC-space).
Beer can be dangerous, but not if you team up with GRC-specialists. 😉