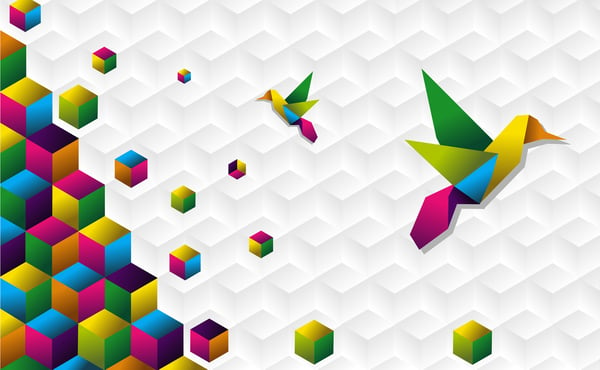 Regulation and compliance requirements are continually increasing.
There is no sign that they will slow down. As this demand increases, organisations that need to comply with authorities or industry standards need to adapt quickly. Decision Focus offers a seamless solution to eliminate manual work.
It can also help companies save time and reduce costs.
The Essence Of Decision Focus
Decision Focus is a platform with building blocks for different parts of GRC.
You can place the blocks you want together so that you can achieve your audit, governance, risk and compliance objectives. For example, some of the blocks might relate to data privacy, but you may only need part of it.
Or, for regulatory committee reporting, you can put in place a part of it or all of it.
You have the choice to enable what you want.
By using an origami kind of thinking, you can unfold how you want to use the platform. So it fits your ambitions and maturity levels. You can continue to build on your blocks.
The main goal is to make GRC and Audit work less of a burden - turn it into a 'machine' with cadence, direction and focus on continuous automation and betterment of processes.
Traditional software vendors in this domain, claim they have built a 'best practice' for all to follow. So you would follow a best practice developed by some vendor that said this is the way to do it. That aligns poorly with the current environment of more change (e.g regulatory demands) and less resources to embed the changes.
Companies have different levels of ambition across different areas Audit and GRC. So you could be great at your risk management - but perhaps your organisation is not able to demonstrate traceability from controls to group policies. Or, you may have high data quality of your controls and self-assessments, but insufficient reporting on the same for management and auditors. In this case, you need the ability to enable some parts now, while holding off on other areas.
That is why, Decision Focus delivers a solution with a finished set of fully integrated templates across both audit processes, risk, compliance, governance and beyond - and lets you orchestrate which to power up first.
Driven By Deep Audit & GRC Knowledge
The platform at Decision Focus offers a technological solution for streamlining processes.
It is also flexible enough to keep pace with the constant changes.
It has taken the best facets of a modern native-cloud tech stack - and coupled it with in-depth knowledge in the GRC space.
It is a modern solution to a constant "nagging headache" for many businesses. It is so capable that it is hard to grasp initially, how beneficial the platform can be. It would help if you had this versatility when the new regulations and industry standards change. The platform has the flexibility to match these changes. Let's face it; a technological solution is a great alternative when manual work is a costly resource.
In the past, you might have had a specific solution. The solution helped a particular item to meet a specific regulatory requirement.
For example, you bought a solution like GDPI to handle GDPR. But by tomorrow, something may have changed in another country. Or a brand new regulation could have come into effect, and you still need to make sure you comply, instead of buying yet another specific solution. You could use something that is inherently flexible.
A Flexible, User-Friendly Platform
Decision Focus has demonstrated its platform's flexibility, by already helping several high-level clients. The clients have been able to compress the use of several different tools, into one straightforward tool. This focus on user-friendliness is part of the DNA of Decision Focus.
Traditionally it has been hard for people to work in governance, risk and compliance. That was unless they had an in-depth knowledge of the area. So, Decision Focus concentrated on the usability of the tool. For example, they track how new users click around the system. Then they introduce new features weekly in areas that users may have found hard to use.
Adoption Process
This process helps companies embed the new tool into their businesses quicker. Because more people can understand and use it correctly.
Clutter is measured and removed on an ongoing basis. So you have a responsive design for your business. It can also work on computers, smartphones, tablets, and so on.
Improving Productivity Within The Business
The adoption process helps to support employee productivity.
But Decision Focus also looks at the actual operations - so it can help the companies improve productivity. It helps to create new radical ways to help save time in areas that are usually time-consuming.
An example would be generating reports for committees', management and regulators. You can reduce the time it takes to produce a report. Not just getting the data from the system, but also the time it takes to collate the original data.
Case stories show that it can take up to three weeks, and hundreds of hours to gather these final reports. You can instantly create the report with the platform when you have collected the data and approved the data.
Decision Focus is the best solution for GRC as it gathers data that will naturally flow directly into the report. So you do not have to manually lift data and dump it somewhere to finalise the report. There is an entirely seamless connection between you gathering the data and the creation of the report at the same time. You can also detail how you share those reports, who should see them, and when they should see them. This process eliminates sending endless email and correction emails.
Handling Mass Submissions
Regulatory workflows, or regulatory engagement, may require you to repeat submissions.
You might need to make submissions to two different regulatory entities or even more. For example, an insurance company might need to make 50-100 submissions - so they are sure they follow Financial Conduct Authority orders.
At Decision Focus, we look at that entire flow.
Similar to reporting, we check the time spent and automate the full lifecycle of a submission. By...
Looking at the initial steps
Checking how you usually plan
Determining what do you need to do for the whole year
Then we make a plan that can be embedded and hosted inside the system. The report and its details can be seen all in one place. There are also personalised dashboards inside the dashboard. So everybody responsible can contribute at each relevant stage. The person responsible for managing the submission to the authorities can easily check the submission stage.
It is also possible to eliminate an enormous amount of manual labour and error-prone processes by cloning a planning template. You can use a template from a previous year and only have to edit what is necessary. It also helps you to improve the entire submission flow even further.
Conclusion
Most companies are surprised during a demonstration, how much the Decision Focus platform can benefit them. The ability to compile reports succinctly, publish policies and standards online, and draft area capabilities. The technology gives it game-changing ability to connect and grow as a user-friendly platform.
Decision Focus enables companies to capitalise on a flywheel momentum potential. You can view the capabilities of the platform as a network, where you can connect the dots. As the project gathers momentum, there are other areas of the business that can join the platform and so on. Over time, the company can become more streamlined and optimised in many if not all areas of the business.
There are endless possibilities for your company, which can be demonstrated by the GRC professionals and software experts at Decision Focus.