Gaining Agility With An Easy-To-Use RegTech Solution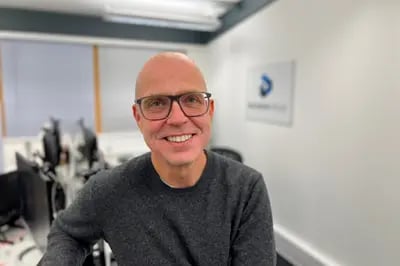 Founded in 2004 in Denmark, Decision Focus is not your typical governance, risk and compliance (GRC) software development company. The company excels by doing things differently, resulting in partnerships with IBM, Liberty Mutual, and the Mercedes AMG Formula 1 Team. Cofounder Soren Krautwald gives an insight into their GRC solutions and client success.
Why did you co-create Decision Focus?
I helped to co-create a solution to fix a GRC industry-wide issue – compliance. One of the biggest pain points for companies is becoming compliant. Once they are compliant, they still must dedicate time and money to maintain it. It's a vicious cycle of compliance for most companies.
This challenging situation stems from inadequate technology and workflows. Legacy tools are hugely complex, outdated, inflexible, and horrendously expensive. Particularly in the financial services sector, these systems have a pretty big footprint, but they're incredibly unfit for purpose, especially as regulation keeps changing.
Whenever there is an update to a new regulation, an army of people must spend around six months updating their system. The Decision Focus team felt this was the polar opposite of how a technology stack should work. The technology should be agile and nimble. We created a solution that makes compliance easier.
What makes Decision Focus different from other GRC software development companies?
Our platform ensures all employees are looking at the same control data set. There is no point in having one register over here, another there, a spreadsheet over there, etc. It is best to have it in one place. By having a centralised "golden copy," teams have a holistic picture of compliance processes and can reduce the risk of mistakes.
There needed to be a better match for what the market pays and what we serve with our modern software. Most software development companies solve specific problems in risk or audit. Decision Focus is focused on integrated assurance and looks at the issues holistically.
How easy is it for compliance employees to use the Decision Focus platform?
Nobody taught you to use LinkedIn or Facebook. And why is that not the same with risk and compliance solutions? They're so complicated, with many being dated and looking like something that rocket engineers have written in the 80s. You really have to have a PhD in engineering to work out what the heck you're supposed to do.
One of the other defining characteristics of Decision focus is its user-friendly build. Decision Focus makes the compliance tools intuitive. This intuitive structure means anyone can log in and start using it. The platform helps to save time and reduce stress levels for compliance employees.
What differentiates the Decision Focus platform from others in the market?
We built the Decision Focus platform with one crucial aim - to make it no-code. The no-code setup makes the technology as agile as the market needs. There is no coding or scripting to change fields, views or functionality. Instead, you can achieve it through the click of a button.
We're not your typical inflexible out-of-the-box solution. You can instantly customise our no-code system to fit the framework of your company. No coding makes it easy to use and eliminates the need for extensive user training. The platform also offers a wide range of preconfigured modules for many areas of GRC.
The no-code aspect enables consultants to configure the platform to specific client needs. The changes are in record time, resulting in faster time to value for clients. Also, the no-code nature lets clients build the platform through simple push-button configurability. The client realises that the possibilities are endless.
Can the no-code platform handle changing regulations?
Absolutely! Keeping up with changing regulations is another area where the platform excels. While a point solution might work out of the box, it is no longer useful for new regulations. The company usually needs to change the existing solution or buy an extra one.
Many regtech companies go over the top in creating compliance solutions. Their design stage will look at every possible outcome and factor it in. This thought process leads to large and needlessly complex regtech solutions. We look at the real pain point and see how we can fix it.
Nobody has ever failed by starting a simple, straightforward approach. We begin slightly simplistic with the client. But it works. It allows the end-users to understand the system. Clients can build on top with more features. You can use it for daily GRC operations and produce customised reports and dashboards.
As a remote company operating globally, how do you ensure client security?
Because Decision Focus is a SaaS-supported cloud platform, there is no need to host or install the software on a client's premises. The platform uses microservices architecture. The software can update in the background without clients needing to lift a finger. Also, this system means no upgrades or patch updates are necessary.
Decision Focus can enable single sign-on for employees. It allows clients to access the platform with a single click. That said, Decision Focus is also ISO 27001 accredited and knows all the ins and outs of IT security. We also offer an Information Security module for clients.
How does Decision Focus create such close partnerships with clients?
When Decision Focus starts working with a new client, the client works with two designated people from the team. These are the implementation consultant and a domain expert. The implementation consultant outlines two routes the client can take with the platform.
Option one is to use the existing module library. This option can be ready for the client within days. Option two is to create a custom module. The client works with the domain expert to configure the standard platform. The client uses a drag-and-drop system to build their modules with simple clicks.
Some new clients are hesitant to have this level of freedom. It can sound scary to start from a blank slate, but that is why we have a library of modules. If a client is uncomfortable starting with a blank module, we can start with 10 modules. We can quickly hide things they do not need or add items they want to use.
Clients quickly become comfortable with the platform and are eager to explore more possibilities. Decision Focus holds weekly meetings with all our clients to ensure they are completely happy. We discuss the progress made or any other ideas or concerns they might have there and then.
We have yet to have a single client that has not wanted more. Once we start, they feel the tool is great and want to spread out and do more. Many clients are surprised about how much Decision Focus can do and the speed it implements new modules. They go, "Wow, that's amazing. I didn't know you could do that!"
Why is flexibility so crucial for GRC compliance?
One thing Decision Focus prides itself on is its flexibility. A testament to this is that a well-known Formula One team uses our platform to handle non-destructive testing and more. This flexibility shows how agile and adaptable the technology is to meet any need or industry.
There will always be risks with a one-size-fits-all approach. While an out-of-the-box solution is appealing, there are problems with this method. Regulators no longer want a report submitted on time. The quality of the submissions is as essential. Demonstrating adherence to legislation is now a significant part of compliance.
The 2008 financial crash left a huge mark on regulation. It has made them tighter, and they now come with hefty fines for non-compliance. The risk of having a system that just works but does not meet a firm's specific needs is high. The reality is, we're actually at a point now where executives can go to jail.
This possibility was unheard of before 2008. But as a consequence of this change, we introduced several regimes. These regimes ensure that if an executive is signing off on a certain position, they are comfortable with it. Because if they were lying or did not have the knowledge, they could go to jail.
A customisable, holistic solution like Decision Focus ensures executives know what is going on and that their company is compliant. Companies should not have to adjust their frameworks to match a system. Decision Focus offers flexibility for companies to handle any changes through customisation.
Why should firms opt to work with Decision Focus?
The speed, flexibility and scope of our implementations are eye-openers for clients. The implementations cover risk compliance, operational resilience, SMCR, third-party risk management, Q&A, and more. Clients know they can start in one area, make that a success, and then grow from there.
Everyone on the team is working from the same database structure. Clients can establish a golden copy around integrated assurance. It gives confidence to the whole company when meeting compliance obligations. It is also more accessible and transparent for regulators.
What plans does Decision Focus have for 2023 and beyond?
Decision Focus is growing at an incredible pace right now. That said, the team is cautious about growing at such a speed, as we want to serve our clients as well as they deserve. It's about managing the growth relative to what we can comfortably serve. We are ensuring that we manage that growth so existing clients stay happy.
Our company puts customers at the centre of our operations. It is the reason why we have many happy customers. A lot of our clients say we're the best-kept secret out there. But right now, we're just incredibly busy being successful, and we're in a happy place. And long may this continue.
Get in touch now and find out how Decision Focus can help your organisation.