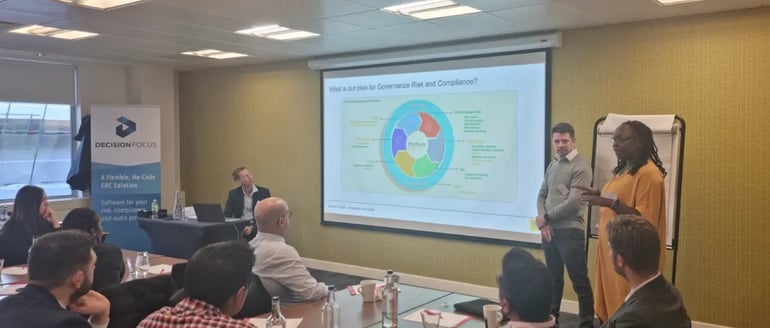 Decision Focus enjoyed holding its first Insurance Day event in London with some of its biggest clients in the insurance space. The event allowed clients to demonstrate how they use the platform throughout their businesses. There was also a sneak preview of a new product Decision Focus will release to help clients meet GRC legislative requirements.
Showcasing Client Innovation
A large number of clients from all different industries are currently using Decision Focus. Although you might not think it is possible, there is lots of innovation in the insurance space. Different clients presented how they currently use Decision Focus in their business processes.
It was exciting to see how customers in the same space are using the platform to achieve the same goal of meeting the same regulatory requirements. The clients have the confidence to use the flexible Decision Focus platform and achieve something slightly different from each other.
The event involved a mixture of clients. Some clients prefer to come up with ideas and let Decision Focus handle the configuration. Alternatively, some are taking configurations into their own hands, implementing unique solutions and achieving fantastic results.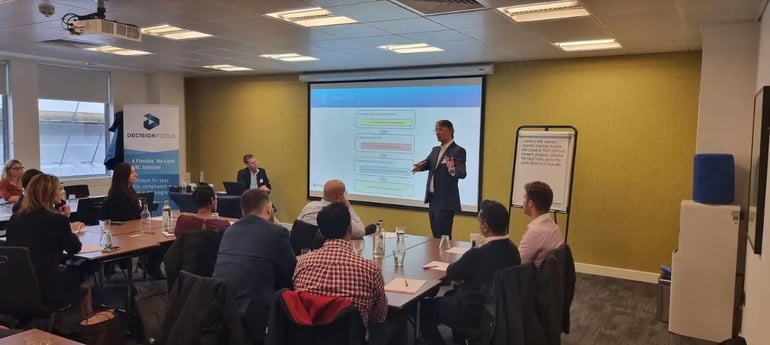 Deep Domain Knowledge At Decision Focus
One of the clients stood up at the event and said deep domain knowledge was why they loved working with Decision Focus. The client knows that if they have a particular challenge and are trying to figure out how to solve it. Decision Focus can suggest a workflow and a configuration solution.
Brian from Decision Focus gave a detailed presentation showcasing the future of Decision Focus using the enterprise compliance engine. Instead of going straight into the details at low-level points. It means looking at new regulations differently, at a higher level.
Take a set of regulations.
Work your way through all the risks and controls.
Starting from the top and filtering your way down to the bottom.
Plus, an additional cross-check from the bottom to the top.
Clients were excited to hear about this new engine and could visualise how it would help their organisations. Clients confirmed they spend a lot of time reviewing new legislation and working out what they need to do. The new enterprise compliance engine would help them be more efficient in this area.
The engine will show clients how everything they are doing at the bottom is helping them meet a set piece of legislation. All actions they do can be related to the legislation itself. The engine will instantly show, percentage-wise, how much the client does or does not comply.
Further information about the new enterprise compliance engine will be coming soon!
Everybody Wants Integrated Assurance
Integrated Assurance is a hot topic and is something that all clients want. Jeff from Decision Focus explained how Decision Focus could help clients achieve what they want to do. It can cover all areas, such as:
More control over risk management
Controls
Action Tracking
Linking up different areas of the business
Managing compliance
Carrying out Audits
All these areas are in one platform, and everything is linked. This setup means clients have one centralised place and do not have to use different platforms. Indeed, one of the clients explained how they were doing precisely that. They are using the Decision Platform for Integrated Assurance as it handles their:
Risks
Controls
Audits
Action Tracking
Compliance requirements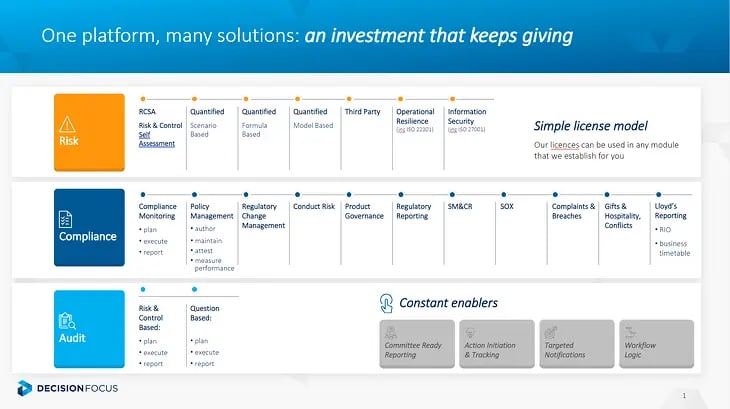 The Power Of Modules
It's all about using the power of a module combined with no-code flexibility. A new client for Decision Focus was extremely excited to hear about this. He shared with Luke, an Implementation Consultant, his company had already selected six modules to implement.
Modules can aid quick deployment but offer clients any customisation options they desire. The modules can work for new customers that still need to set up something. These clients can use it "out of the box", and then it can be "tweaked" if necessary.
Existing customers with bespoke setups can also make the most of the new modules. An "off-the-shelf" module can merge into the existing structure. Decision Focus offers quick deployments and easy customisation to seamlessly integrate the client's existing configurations.
The existing, new, and potential clients enjoyed hearing about the modules. At least three current legacy customers with bespoke setups asked for demos of the new modules.
A recent bespoke customer said they had been actively reviewing the market to find a product because they did not think that Decision Focus offered it. The client saw the module map from Decision Focus and found the needed module. A demo of the module was booked for the following week!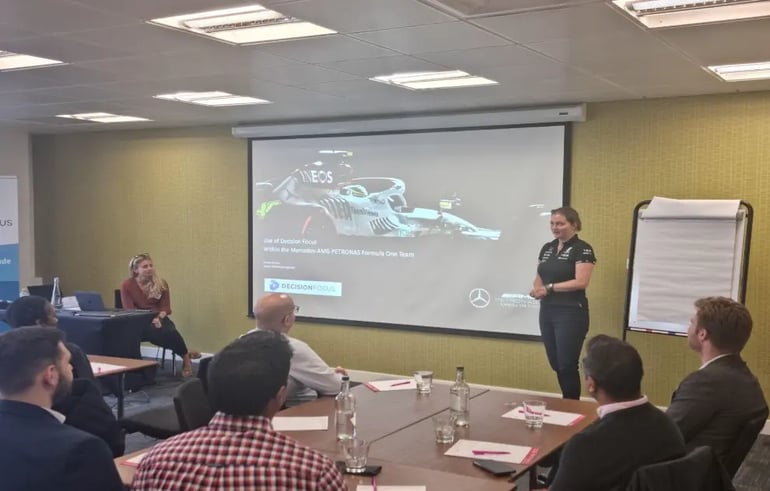 F1 Extreme Sports Use Decision Focus
It's not only in the insurance sphere that Decision Focus excels. Clients can use the versatile platform in a multitude of industries. There was a special guest appearance from a F1 Extreme Sports client. The client has worked with Decision Focus for the last eight years, and the partnership has contributed to their success.
Everybody in the room was impressed by the scope of which an extreme sports team uses Decision Focus. Seeing so many parallels between the extreme sports industry and GRC in the insurance space was also incredible. Although the industries are so different, they still have similar principles, such as:
Defect Logging (same as testing for Risks and Controls)
Auditing
Actioning Tracking
Future planning for car parts (same as planning for insurance-based tests)
The key difference between the two industries was the speed of decision-making. The Decision Focus platform lets them make crucial quick decisions. For example, in the F1 industry, the client might race the following week and need to act quickly. In the insurance space, most decisions usually have lot longer deadlines.
Decision Focus Insurance Day Becomes An Annual Event
Following positive feedback from customer surveys, Decision Focus will now host Insurance Day annually. The module mapping session showed clients to use an Integrated Assurance platform. Regardless of your industry, you can choose your preferred modules to excel in your business.
You can contact Decision Focus to access our deep domain knowledge and learn more about the new modules. Or how about trying a free demo for your company? Start streamlining your business and achieve your goals quicker than ever before!